When you think of single malts you think of Scotland. That's just the way it is. They've been doing it for centuries and they're damn good at doing it too! Japan has its' whisky regions too but we're going to discuss the Sottish whisky regions and what comes out of each of them.
Look at the map and you'll see the region is split into different areas: The Highlands, Lowland, Islay, Islands, Campbeltown and Speyside.
Each region is responsible for creating a unique tasting single malt. While it's not entirely correct to judge a whisky simply by it's region (two distilleries side by side could be creating single malts that are miles apart in flavors and aromas) it is generally a good indication of what is in store for you if you know the region the whisky is from.
Speyside
.

 This is probably the most popular whisky producing region of Scotland. When I say popular I mean the one that sells the most whisky. Speyside malts are by and large sweet, fruity and floral and most single malt drinkers prefer them early on in their journey since they are so easy to drink. It's no surprise then that the largest selling single malts in the world, Glenfiddich and Glenlivet, come out of the Speyside region. Other extremely famous single malts out of Speyside are Macallan, Glenrothes, Balvenie, Aberlour, Cardhu and Glenfarclas.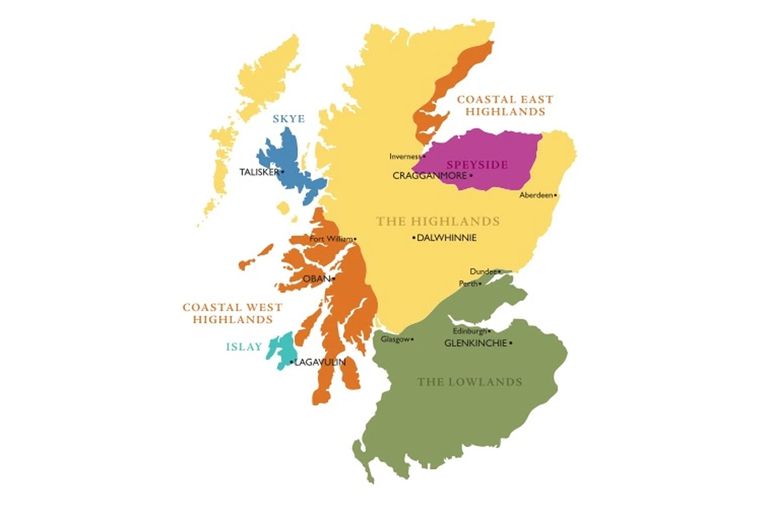 Highlands. Single malts from this region are also extremely popular and I find them similar in taste and stature to their Speyside cousins. For me they begin to show traces of smokiness as well, a trait not found often in Speyside single malts. Highland whiskies are generally considered to be quite complex in character and there are some absolutely brilliant expressions out there. Some famous single malts out of The Highlands are Dalmore, Dalwhinnie, the uber popular Glenmorangie, Oban and Old Pulteney.
Lowlands. Not a very prolific whisky producing region since all but three distilleries remain in operation : Auchentoshan, Bladnoch and Glenkinchie. I'm personally not a big fan of Lowland whiskies but that's just me. I have an Auchentoshan Three Wood in my cabinet and that's not so bad.

Campbeltown.
 

This region at one point had over 30 distilleries but now has only three. Glen Scotia, Glengyle and Springbank. Interesting fact about the Springbank distillery is that it produces three different malts from the same distillery simply by using slightly different barley and a modified distilling process. So from one distillery comes the Springbank, the Hazelburn and the Longrow. Each a truly distinct malt in it's own right. The Glengyle distillery produces the lovely Kilkerran which is currently putting out a series known as the Work In Progress which is absolutely sublime.